call 02476 368 300 or 07814 757861
A new Theftguard porch adds a stylish new entrance to your home with the extra benefit of creating a useful additional space. A Theftguard porch is designed individually for your home. It's a great way to transform the entrance to your home and improve its security and energy efficiency. They're available in a range of roof styles and you can choose from different coloured UPVC window frames. Individually designed to suit the space you have A wide choice of roof styles, frame materials and glass Double glazed units help reduce draughts and energy bills.
Porches also offer added security in the sense that you can see who is at the door before you decide to open the door.
An essential addition to the home for the elderly and infirm.
Don't become a victim to rogue traders with our state of the art security porches.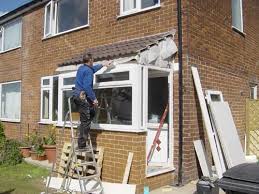 A porch (from Old French porche, from Latin porticus "colonnade", from porta "passage") is a construction external to the walls of the main building property, but may be enclosed by latticework, broad windows, screen, or other light frame walls extending from the main structure.
There are various styles of porches, all of which depend on the architectural tradition of its location. All porches will allow for sufficient space for a person to comfortably pause before entering or after exiting the building. However, they may be larger. Verandahs, for example, are usually quite large and may encompass the entire facade as well as the sides of a structure. An extreme example is the Grand Hotel on Mackinac Island, Michigan, which has the longest porch in the world at 660 feet (200 m) in length.c