CAll 02476 368 300 or 07814757861
French doors & Patio doors
Originating in France during the 17th century, French doors traditionally led out onto small balconies and whilst their use has become more varied over the years, their style still proves popular with those wanting to create a continental feel and open up the space in their home.

Theftguard Double Glazed French Doors are available in many different colours of virtually maintenance-free uPVC, and every single one of our doors is tailor-made for a perfect fit.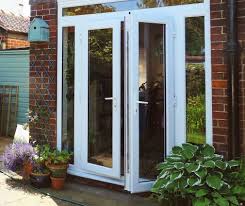 If your home is slightly older and traditional, our uPVC and timber effect options allow you to incorporate cottage-style Georgian bars for a beautiful and unique view of your garden.

They are also ideal for joining indoor and outside spaces, such as a conservatory and a garden, and being able to create one open plan area like this can prove particularly useful for social gatherings, and family events.


As well as looking the part, our doors also provide a more practical solution. If you're letting people in and out of your property, simply open one door, but if you require a wider opening for moving furniture outside to enjoy some al fresco dining, then open both doors wide.

Like all Theftguard Doors, our external French doors are all double-glazed and fully sealed to keep your home warm, quiet and draught-free and their advanced glass technology and superior insulation helps to reduce heat loss as well as your carbon footprint. Our uPVC French doors are available in triple glazing, too.At Theftguard we also keep your safety front of mind, which is why we only use toughened safety glass as standard or optional laminated glass to keep your home as secure as possible.
Patio doors
A sliding glass door or patio door, a type of sliding door in architecture and construction, is a large glass window opening in a structure that provide door access from a room to the outdoors, fresh air, and copious natural light. A sliding glass door is usually considered a single unit consisting of two panel sections, one being fixed and one a being mobile to slide open. Another design, a wall sized glass pocket door has one or more panels movable and sliding into wall pockets, completely disappearing for a 'wide open' indoor-outdoor room experience.
The sliding glass door was introduced as a significant element of pre-war International style architecture in Europe and North America. Their precedent is the sliding Shōji and Fusuma panel door in traditional Japanese architecture. The post-war building boom in modernist and Mid-century modern styles, and on to suburban ranch-style tract houses, multi-unit housing, and hotel-motel chains has made them a standard element in residential and hospitality building construction in many regions and countries.