Call 02476 368 300 or 07814 757861
The Most Secure locks available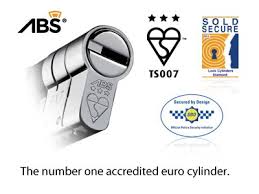 WATCH THIS SHOCKING VIDEO
Why choose ABS diamond rated locks?
Snap resistant door cylinder locks try to stop a burglar snapping the cylinder to get at the inner workings of the lock with tools like mole grips or a claw hammer.
Rather than being snap resistant, the ABS (Avocet Break Secure) Diamond grade cylinder is BREAK SECURE with clever, patented technology that keeps the central cam in place if the cylinder has been snapped, so any would-be burglar won't have access to the inside of the cylinder or the inside of your home.
KEEPING YOU, AND YOUR CASTLE, SAFE AND SOUND.
Proven to secure
The ABS (Avocet Break Secure) euro cylinder lock has been installed in police and council target hardening projects to effectively beat the burglar. 10,000 ABS Diamond grade locks were fitted to vulnerable victims homes to stop burglars continually breaking in via standard euro cylinder locks -
The ABS lock is retro-fit which means it will quickly replace existing euro cylinder locks to immediately protect your door and keep your home secured against lock snapping and other known methods of lock attack.
ABS is the highest rated euro cylinder lock on the market with a TS007 3 star rating and the ultimate Sold Secure Diamond standard. This means that ABS is a snap secure solution without the need for back up from expensive TS007 2 star rated security handles or guards.
NO NEED TO ADD EXPENSIVE SECURITY HANDLES OR GUARDS.